About Clear Span Buildings
Permanent and Temporary Building Solutions
Let us tell you a little more about Clear Span Buildings…
We have installed building projects at many major PLC's, Blue-Chip companies and high-profile organisations in manufacturing, education, and logistics through to smaller building projects of all sizes for independent companies needing quick and quality solutions.
We are a highly experienced team of people that all have the same goal, which is to achieve a high level of customer satisfaction right from the start.
Our extremely wide knowledge base spans over decades of structures installation experience in the UK and beyond. Because we give you the very important reassurance that you are in responsible hands.
When deciding what type of building or which structure you need it can be a minefield.
Contact us today to get some advice.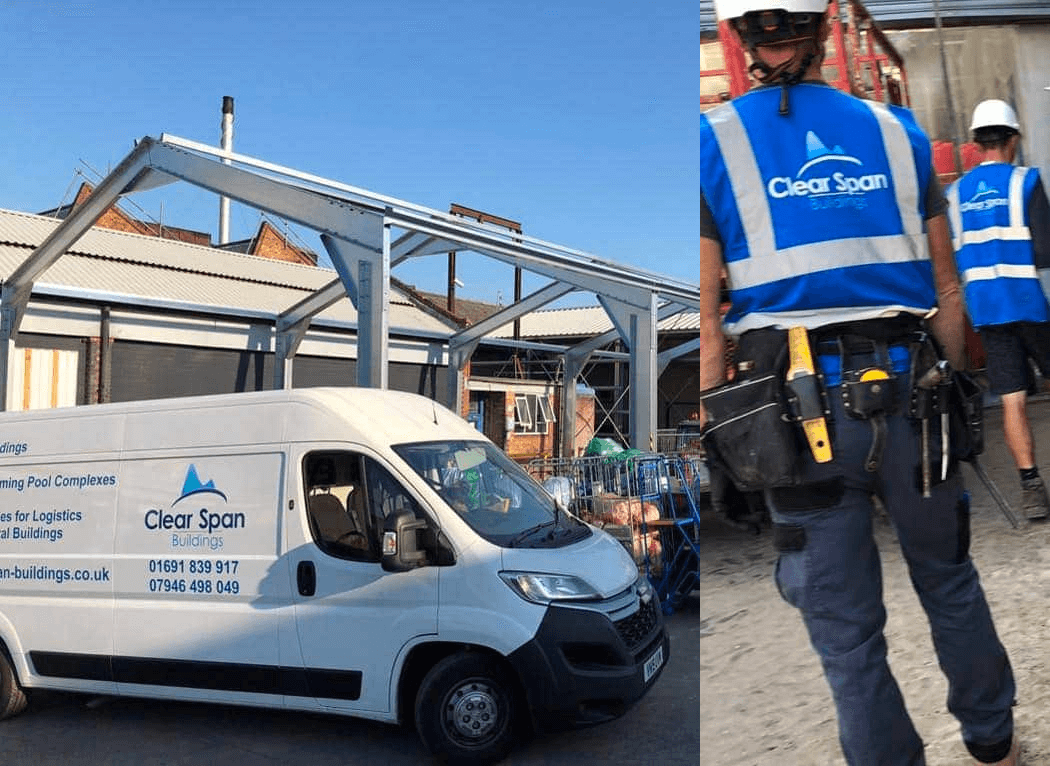 Qualified and insured to deliver your building project.
Fully experienced and trained teams will work onsite. As each person carries the relevant training and qualifications to operate the specialist plant and equipment to install each building project.
We always have up to £10m value of current liability insurance for all site works because, health & safety is paramount, and we operate safe working practices on all projects in accordance with HSE requirements.
Clear Span Buildings will issue a compliant RAMS (site-specific risk assessment and method statements) prior to work commencement on site. We pride ourselves on being as helpful as possible onsite, and we always observe and abide by your site rules.
We are fully accredited through CHAS which is the Contractors Health and Safety Scheme. This accreditation proves that a business such as ours has safety processes in place that meet excellent standards and levels.
This is a minimum requirement for many large corporate clients. So this gives you peace of mind that your building project is being built correctly and safely.
CHAS accreditation assists with recognising SSIP in procurement requirements for buyers of construction services. So get a single checked standard of health and safety that is assessed and passed by CHAS.
Our guaranteed ongoing support for your building projects.
At Clear Span Buildings we do not just install a building solution. We also make sure that our service levels extend to our customers well after the installation as follow-on support. This means that if there are any issues at all, we are always available to support you and we pride ourselves in quickly addressing any problems or queries.
On all purchased buildings there are long warranty periods that cover you against any manufacturing or installation defects so you can focus on your business.
When deciding what type of building or which structure you need it can be a minefield.
Contact us today to get some advice.
Contact us for a free quote today.
Looking to upgrade, build a new warehouse or need a temporary building solution? we can offer you a FREE site visit and written quote within 48 hours, call the number below or fill out the contact form for a call back.
Or fill out the form to get an instant call back!
REQUEST A FREE SITE VISIT & QUOTATION
Guaranteed Written Quote within 48 hours
BACKED BY EXPERIENCE
There are many differ reason you might need a new building from extra storage or manufacturing space to a temporary gym.

Very Professional to deal with from start to completion with a high standard of workmanship. We will use again if the situation arises and would definitely recommend.
FULL DESIGN CALCULATION INCLUDED